Continuity and innovation in medieval and modern philosophy : knowledge,mind, and language / edited by John Marenbon
Studies in Stoicism / P.A. Brunt ; edited by Miriam Griffin and Alison Samuels, with the assistance of Michael Crawford.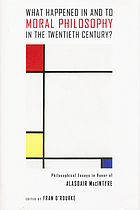 What happened in and to moral philosophy in the twentieth century? :philosophical essays in honor of Alasdair Macintyre / edited by Fran O'Rourke.